What exactly is a haul?  What is it for you?  Is it about savings?  Or is it about the latest fashion and makeup trends?  How about finding unusual things to re-purpose?
Periodically, a friend talks about her mega-savings, and I'm left scratching my head, thinking 'why the hell can't I find those kinds of deals?'.  But, I have had a few 'haul' experiences, where I can honestly say I made out like a bandit…  AT THE FLEA MARKET.
But of course!  That was my life every Sunday (weather permitting), until I got married.  And even though I hated waking up at times acceptable only for milking the chickens (inside family joke), I still enjoyed walking around looking for things I liked while my parents worked their asses off.
Even if it was only for posters and vinyl records, I still managed my fair share of 'deals'.  All those dealers couldn't resist giving Mr. Garcia's little girl a discount.  I was just too cute to resist.
But now that I'm older, and 'working it' is illegal, there are other ways of getting those deals.  Family day at the thrift shop and aggressive coupon'ing are among them.
But for some, hauls can be problematic, bordering on hoarding.
Kevin doesn't trust me in any store that sells yarn or adult coloring books. 
Grocery shopping isn't exactly a good thing for me either.  I always spend way too much.  "But honey, it was all on sale!"  … even though we don't really need most of it.
The one true haul experience I can talk about is definitely a flea market one.  Once a year, a town that neighbors my hometown holds a Memorial Day weekend event, which includes a one day only flea market.  It isn't just a flea market.  There's Chiavetta's chicken.  Only Western New Yorkers are familiar with Chiavetta's, and the drool-worthy marinade is available for online purchase.
A few years back, we walked away from that flea market with paring knives sharper that Cutco, toys for the kids, music CDs, video games, a few knick-knacks, other kitchen stuff, and a few other odds and ends.  We broke the bank that day.
These days, the only hauls for us are when we head back to WNY for periodic visits with family, and we bring back coolers and bags of specialty foods.  I don't care who claims 'these wings are just like authentic chicken wings from Buffalo'.  They're wrong.  And if you try to tell me to eat ranch dressing with them, I will definitely be offended.
How did this entry turn into food?  I must be craving chicken wings.  Only my husband knows how to make them correctly in our deep fryer, with Anchor Bar chicken wing sauce mixed with melted butter – shaken in a sealed container for even sauce distribution.  Listen to me … can you tell I'm homesick and craving wings right now?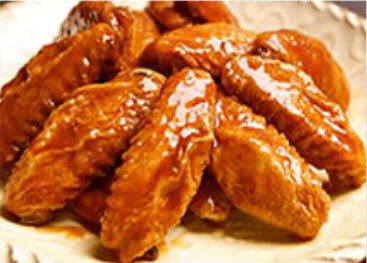 Deep fried only – NEVER BAKED
I think I'm sending Kevin to the store before he comes home from work.