For some, it's even shorter, like with Kevin and I.  He elbowed me in the eye in the middle of the night shortly after our wedding.  That's when we decided a king sized bed was a must.  Otherwise, I would most definitely still be sleeping in the other room.
Nowadays, even though we have a huge bed, I still sleep facing away from him and his rogue arms.  But it isn't just his arms.  His head tends to gravitate toward me as the night progresses, and then I make like a dog and switch ends.
"Honey, why were you sleeping on the other end of the bed?" "Um, my feet were hot …  and I wanted to put them against the fan on the nightstand … and my heartburn was bothering me …".
Remember how the bathroom door had to be closed, no matter what you were doing?  Well, if you've endured things like childbirth (which can be traumatic for some), surgeries, or witnessed gruesome things in an ER, then dropping a deuce without closing the door fares mild compared to those other things.
"Honey, can you check something for me?"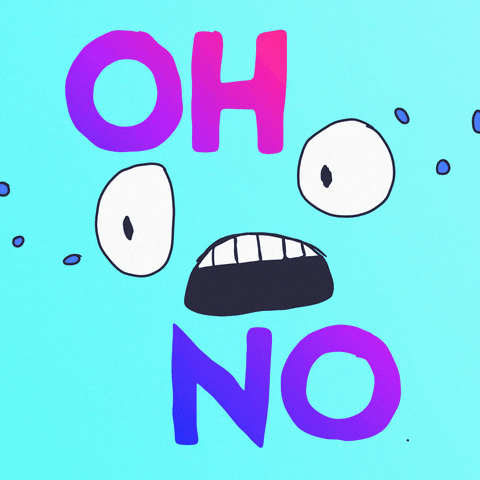 And then you try to kill each other with food poisoning.
"Honey, will you taste this?" "OK" … "It doesn't taste or smell funny to you?"
The best part of being married for a long time is how many unspeakable things you'll do to and for each other, without flinching.  I'm kinda bummed that I can't find a gif for men shopping for maxi pads.

This is close enough, since it depicts what Kevin might say: "Might as well stock up, so I never have to buy these things again."  I can't tell you how thankful he was the day I had my baby factory removed.
"But HONEY, I still need these … until the day I die."
Kevin:  fml
Then other things happen, like not being able to tolerate chewing or even breathing. Breathing and chewing at the same time?  Don't let me hear you.

…is it just me?…
It's ironic, given how much I love ASMR – except for the mouth sounds and eating videos.  But it's only recent that I've discovered this problem.
Don't get me wrong.  I love my husband with my entire heart and soul.  I've just become intolerant of certain things.  I hope it's a passing phase due to being pre-menopausal or some weird crap going on in my sleep deprived head.  And, I'm certain he has trouble with a lot of things I do … or, um, don't do.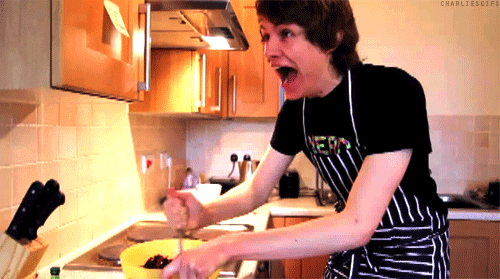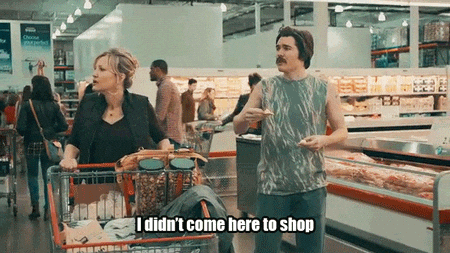 I think I'm done.  There are way too many gifs.  But I can't help it.  They're addictive.
If you've made it to 20 years, congratulations.  You CAN withstand the rest of your lives together.  It might take a little work at things like patience and tolerance, but you'll get there.