Technically I've had an assberg  for a few weeks now.  I usually do when the weather turns cold.  Sitting on your ass 90% of the time at the computer tends to have that effect.  But for me, this is a normal thing.
Kevin calls me a cold fish because I've always had an assberg.  Even before we were married, and he stayed over night when my parents were away.  He about went to a different bed when I cuddled up to him.  But 20+ years later, he's getting revenge by sticking his ice cold feet on me on Sunday mornings.
Now that we've had a light dusting, I can officially crank the heat to 70 degrees.  But only for the daytime hours because we both have weird dreams when it's too warm in the bedroom.  …  Did I just really say I only have weird dreams when it's too warm???

To be honest, I can get away with putting on a hoodie and be fine.  But someone is home for an extended weekend, and she's freezing.
I couldn't help myself with that gif.  It's a favorite. ❤
Meanwhile, last night's dreams were a mess.  Let's just say adult items were involved, and I woke up on the brink, all sweaty and panting.
In between all of that, we were in a haunted old log cabin.  Hugh Laurie was the owner, and he kept calling all of us 'idiots' for staying there during the winter … when a gigantic moose was loose and terrorizing the entire town.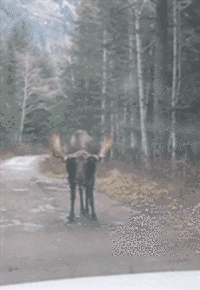 If it were Sam Winchester, I wouldn't have been so scared.
Time for a PSL.