Yesterday's nor-easter triggered Christmas dreams.  And I wasn't too happy, because I literally still have lights up on the front of the house yet.  And other things still need to be put away.
Once again, my dream took place at my parents' house, and mainly in my room.  I don't know why I'm always in my room in my dreams.  Maybe because that is the one place I've ever truly slept so sound, that not even a tornado could've woken me up.
But in this case, my guess is since it was Christmas, and I was in charge of decorations and wrapping, I had to pull everything from the crawlspace in my room.  And it was crammed with everything but Christmas stuff.
During my crawlspace purge/search, I discovered something gross and weird.  There was a mutant rat-rabbit cross breed melted within the wood of the sliding crawlspace door.  When I started to poke it to see if it was still alive, fur spewed everywhere across the rug.

And of course, my friend was there, practicing for a gig.  Like, dude?  Why are you here, and practicing in my room?  It's Christmas eve, and my room is a disaster.  But he stayed, and I had to go downstairs for cleaning supplies and the vacuum cleaner.
When I got back upstairs, the room was in even worse shape because my kids brought all their friends over to play, and they must've had a God damned party or something, because there was snack food on every stinking inch of my rug.
But that's OK!  My friend got rid of the rat-rabbit for me, and he was now relaxing in my papasan chair, waiting for me to finish so that he could play for me.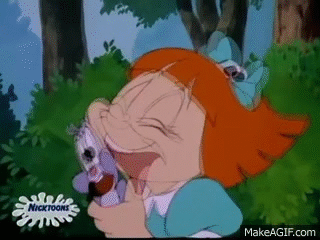 I refuse to explain this gif.
Jump to a completely different part of my REM cycle, and I'm chasing someone down a road to get my car back, which was stolen.  After firing a taser, I beat the crap out of the thief, lobbed him into a field with sudden superhuman strength, and took off, leaving the loser to rot in hell after I set the field on fire.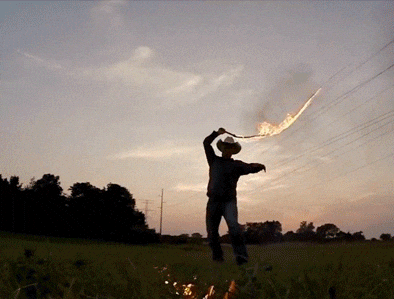 As I sped down the road, Larry the Cable Guy was waving on the side of the road, yelling and cheering at me for kicking the car thief's ass.  Except it wasn't Larry himself. It was this adorable little guy, and I had to hook him up to the back of my car to tow him into town, which is weird, because HE is the tow truck.
Then he started talking and made me scream, causing me to wipe out.  How the hell did actual Larry git in my car?  Bad pun…
When he asked me my name, he was all "HEY THAT'S MY WIFE'S NAME!!! Can I kiss ya?", which he always says for real whenever I respond to some of his social media posts – minus the kiss part, because I might blush a little, and his wife might have a few words for me.
Then I woke up, because all kinds of celebrities started invading my dreams.  It's weird since I don't really dream about celebrities a lot.