I think I've had to do it maybe twice, but I can't remember what for.
Last night, in my dream of course, I was in detention for not finishing an essay.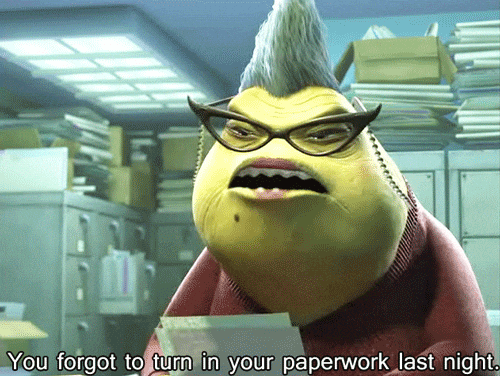 It was totally funny because I was my current age, but back in grade school, with the nuns – and a teacher who scared me, tempted me, and all sorts of other things I won't speak of here.
I wasn't allowed to use the bathroom until the essay was finished, and I kept trying to find ways to sneak out of the classroom without the detention teacher noticing.  And once I did finally make it out, bells were ringing and this damn teacher was actively hunting me down.
And that's what her face looked like by the time she got to me.  Then she calmly dragged me by the wrist, back to detention.  But now, the earth was about to split in half due to a huge volcano that instantly erupted in Yellowstone.  For some reason, that fear is always lurking in my subconscious.  And I live nowhere near Yellowstone.
The worst part is – my subconscious and memories at work here – I had actually finished the damn essay on time.  She just couldn't see the words because I used a special pen that made the ink disappear.
Ugh.  I was a bad kid who loved provoking this particular teacher.  And my friends were even worse for narc'ing (sp?) on me.  Jerks!  They just got off on watching our hormonally imbalanced teacher going nuts on someone.