My daughter and I were joking about bodily functions, and how her and her non-boyfriend boyfriend are just now getting comfortable with letting silent burps out in front of each other.  Then I was like excuse me?  You've known each other for HOW long, and you're just now burping???
But then I got all smh and said "If you can't barp and furt in front of each other after 7 years, there's an issue".  She was too busy being embarrassed about burping and farting in front of each other to realize that I had an attack of verbal diarrhea.  And since I can't find a suitable gif, I'll just go with something close enough.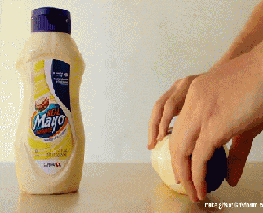 And I'm never eating mayonnaise again.  But at least it wasn't gif of Miley sticking her long tongue out, which was all I could find when I searched tongue tied.
Finally, if you've been with your s.o. for a year or more, you should be able to at least burp.  I'm not talking about a full on BRAP.  Just a brief, moderate burp, followed by an excuse me.  If you still feel awkward, things just aren't going to work, and then after 20+ years of marriage, you'll still be sprinting to the bathroom, locking the door shut just to fart.